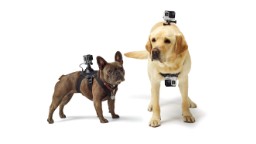 Story highlights
Pet toys, like almost everything else, are increasingly going digital
Cats can paw at digital mice on tablet screens; dogs can chase remote-controlled 'animals'


CNN
 — 

The old ball of yarn isn't cutting it anymore when it comes to cat toys.
As with kids' toys and adults' favorite board games, diversions for pets have overwhelmingly gone digital. A slew of apps and other tech toys are now being marketed to our cats and dogs. (OK, marketed to us, who then run out and buy them for our cats and dogs.)
Your kitty can make new use of an old iPhone or Android tablet, thanks to a suite of animal-friendly apps available for download. And in the digital age, you no longer have to wrestle the ball from Fido for a game of fetch.
Friskies, the cat-food company, has been producing digital games for cats since 2011. Titles include Cat Fishing, JitterBug and Pull 'n Play, and each involves tempting cats to chase moving targets on the screen of a phone or tablet.
"All of the Friskies Games for Cats are inspired by things that pique that amazing curiosity unique to cats and their spirit of imagination and discovery," Friskies' parent company, Nestle Purina, said in a statement.
The company says its games have more than 2.7 million downloads, an average of about 20,000 a week on iTunes. YouTube hosts nearly 12,000 videos of cats playing the games.
Cat Fishing, which encourages cats to paw at digital fish swimming across the screen, has mostly positive iTunes reviews: "Downloaded this months ago and my buddy Hobbes still comes running whenever he hears the bubbles that signal the start of the game. He cannot get enough of this app!" wrote user Butters867.
JitterBug has fewer raves in the rating section, with some dissatisfied pet owners saying their cats simply ignore the game.
Oh, those finicky cats. That's where hardware comes in.
FroliCat, a PetSafe brand, makes toys that mimic old-school yarn and fake mice to keep cats occupied like they're chasing the real thing. Other games use a laser to focus the cat's attention and send it on a wild goose chase.
PetSafe has seen more demand for the cat toys since it acquired the line from another company three years ago.
"You do see an uptick in people pampering their pets and wanting to give their pets a way to interact when they're not home," said Jason Hart, director of marketing for PetSafe.
The company is interested in producing high-tech toys for dogs too, Hart said, but finding electronic toy concepts that appeal to dogs at the right price point has proved difficult. Dogs are pretty hard on toys, after all.
Tablet and smartphone apps such as Airship Software's Game for Dogs are out there, but owners may be wary of dogs getting too excited and destroying their devices.
"Perhaps I should have thought this one out a little better," user JackSpratsmom wrote in an iTunes review of Game for Dogs. "90lb Golden Retriever vs iPad screen?? I'll let you figure out the outcome of that one."
For dogs, hardware could be the way to go. Some new technology is interactive for both owner and pet.
For the rangy dog, there are toys such as the Go-Go Dog Pal, a remote-controlled toy that resembles a small animal on wheels. Pet owners can buy a raccoon, skunk or woodchuck version that races around the yard while the dog gives chase.
Other gadgets take even less effort on the part of pet parents.
Fetch machines, which launch balls for a dog to chase, have been around a while. Brookstone carries a version. And there's one available from Go Dog Go.
Both let you train your dog to reload the launcher and play on its own while you're at work.
If you're an avid fitness tracker who takes your dog along on your runs or hikes, you can now obsess about Fluffy's "steps," too. That's right – there's a pedometer for dogs.
And in these "record everything" times, pet owners can even strap a GoPro harness and camera onto their dog to get a new perspective on their pooch's workout routine.
Pet owners, the future is now.