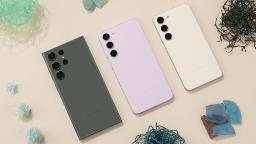 CNN
 — 

At its annual Unpacked event on Wednesday, Samsung is set to unveil its latest Galaxy S smartphones – and the company is betting that focusing on improvements to the camera will be enough to get consumers to upgrade.
The new lineup, which includes the 6.8-inch Galaxy S23 Ultra, 6.6-inch Galaxy S23+, and 6.1-inch Galaxy S23, look similar to last year's models, but with new photo features, a longer lasting battery life (with faster charging speeds) and an exclusive chip.
But the standout feature is the camera. The higher-end S23 Ultra features a new 200 MP adaptive pixel sensor for the first time that supports multiple levels of high-resolution processing at once, enabling what the company called "unprecedented resolution photo quality never before seen on a smartphone camera."
Samsung also introduced its first Super HDR selfie camera, jumping from 30 frames per second to 60 frames per second, for better front-facing images and videos.
Ahead of the event, Jude Buckley, president of the mobile business for Samsung Electronics America, told CNN its strategy continues to be staying at the forefront of camera innovation.
"We try to own a few things really uniquely, and the camera is one of the things that we have to stay well ahead of," he said.
The launch comes at as Samsung and other tech companies confront broader economic uncertainty that could push consumers to rethink their spending. Global smartphone shipments fell by 18% in the fourth quarter of 2022, according to market research firm Canalys.
Earlier this week, Samsung reported that its quarterly profits had plunged to their lowest level in eight years as customers snapped up fewer smartphones and laptops. Its revenue also fell 8% from the prior year.
While the company is keeping prices the same as the prior year, it nonetheless must convince customers to shell out as much as four figures for its new phone lineup in a tough market.
Galaxy S23 Ultra, which comes with Samsung's signature S pen, will start at $1,199.99, while the Galaxy S23+ starts at $999.99 and Galaxy S23 starts at $799.99.
The new lineup, which is available for pre-order starting on Wednesday, comes in four matte colors: black, cream, green and lavender. Other colors, such as lime, graphite, sky blue and red, will be available for purchase directly on Samsung.com.