High fashion is a fascinating world, with some items being undeniably beautiful while others may leave us questioning their practicality and cost.
CLICK TO GET KURT'S FREE CYBERGUY NEWSLETTER WITH QUICK TIPS, TECH REVIEWS, SECURITY ALERTS AND EASY HOW-TO'S TO MAKE YOU SMARTER
These high-end fashion pieces often have a hefty price tag and can be uncomfortable or unconventional. While some fashion pieces can be fun and fabulous for a photo op, others may seem ridiculous. The question is, where do you draw the line, and when will people stop paying attention to these extravagant fashion items?
Call me a pragmatist because I would love for fashion to embrace items that serve a practical purpose. Let's say jeans that could quite literally save your life. That's right! For less than the price of some useless Prada pants, you can get your hands, or rather your butt, in a pair of pants that could one day save your behind.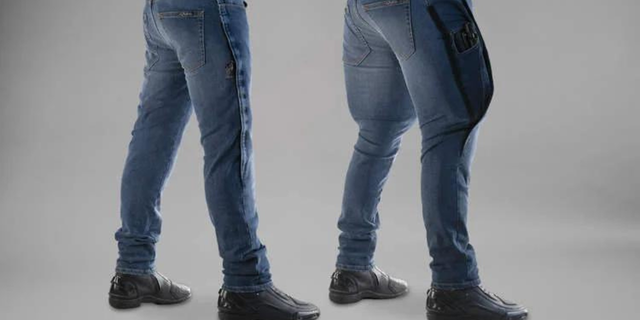 What are AirBag Jeans?
The Swedish company Mo'cycle has unveiled the world's first pair of airbag jeans. No, we're not talking about these comical inflatable latex balloon trousers.
TIPS TO HELP YOU TELL IF AN ONLINE STORE IS REAL OR A SCAM
Mo'cycle's pants can actually inflate upon impact, softening the blow of a motorcycle collision. According to Mo'cycle, the jeans are just as comfortable as any regular pair of pants but are instead made with water-repellent, breathable, and abrasion-resistant fabric.
The pants' airbag is invisible until its deployment is triggered through a fall. The airbags eventually deflate, allowing the pants to return to their normal size. Since the pants can only activate from a force of about 88 pounds, there is no need to worry about embarrassing public incidents. What's neat, the pants are entirely reusable. Through replaceable CO2 cartridges, the pants can remain practical and fashionable at the same time.
HOW A HIGH-TECH TOILET CAN KEEP YOU FROM OVERSPENDING ON ROLLS OF TOILET PAPER 
How do these pants work?
Well, it's pretty simple. The jeans need to be connected to the motorcycle through an elastic tether, allowing the rider to move freely while still attached to the bike. When a fall is detected, the tether is pulled apart, activating the pants' airbags through a spring-loaded piston that pierces the CO2 cartridge, inflating the airbags before the rider hits the ground. The process is very fast, with the airbags fully inflating in just a few milliseconds.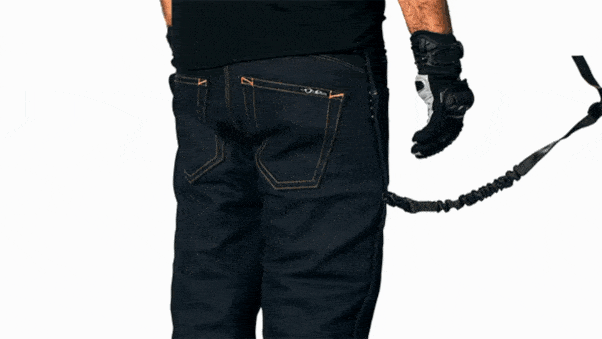 The airbags are designed to protect the lower body, which is often the most vulnerable in motorcycle accidents. According to Mo'cycle, airbag jeans can provide up to eight times better protection than regular motorcycle pants and have been found to reduce the risk of injury by up to 90%.
HOW YOU RECEIVE MEDICINE AND FOOD IN THE FUTURE COULD INVOLVE ZIPLINE DRONE TECHNOLOGY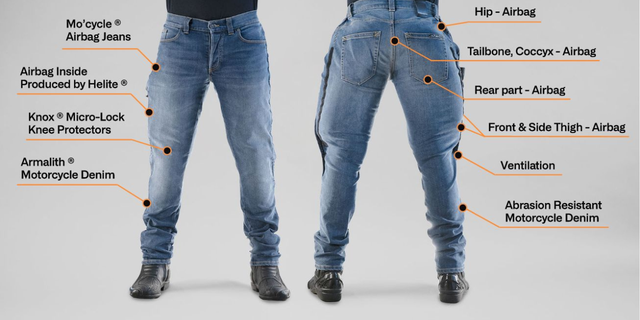 The pants range between $500-$700 and are available for men or women.
Would you rock these fashion-tech jeans? Let us know. We'd love to hear from you.
CLICK HERE TO GET THE FOX NEWS APP
For more of my tips, subscribe to my free CyberGuy Report Newsletter by heading to CyberGuy.com/Newsletter . 
Copyright 2023 CyberGuy.com.  All rights reserved.