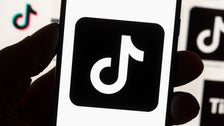 Ohio and New Jersey have become the latest U.S. states to ban the use or download of TikTok on devices owned or provided by the government.
The social media giant, which became very popular during the COVID pandemic, is owned by Chinese company ByteDance and has been floated as a national security liability over its ties to Beijing.
New Jersey Gov. Phil Murphy (D) described the app as high-risk.
"This decisive action will ensure the cybersecurity of the State is unified against actors who may seek to divide us," Murphy said in a statement Monday.
Murphy is not not only targeting ByteDance as a whole, including TikTok, but also other 13 additional vendors, products and softwares that are considered a threat — including popular Chinese platform WeChat and Chinese telecommunications conglomerate Huawei Technologies.
Ohio Gov. Mike DeWine said his state employees and agencies are not allowed to use any social media app, channel or platform owned by an entity based in China. The Republican governor accused Chinese-owned companies of directly sharing users' data with the Chinese Communist Party under the country's 2017 National Security Law, which requires local companies to share intelligence with the CCP.
"Social media applications and platforms operating in China engage in surreptitious data privacy and cybersecurity practices to include collecting personal information, behavioral use data, biometric data, and other data contained on the devices of its users," DeWine said in his executive order signed Sunday.
TikTok spokesperson Jamal Brown said "it is unfortunate" that states enacting those bans will miss out on the benefits of TikTok around building community and sharing information.
"We're disappointed that so many states are jumping on the political bandwagon to enact policies that will do nothing to advance cybersecurity in their states and are based on unfounded falsehoods about TikTok," Brown told HuffPost.

Other states that have issued similar bans of TikTok for state employees include Alabama, Georgia and South Carolina, among others.
"We are continuing to work with the federal government to finalize a solution that will meaningfully address any security concerns that have been raised at the federal and state level," Brown added.
FBI Director Chris Wray has also shared his concerns about the popular app in the past, telling an event at the University of Michigan's Gerald R. Ford School of Public Policy in December that China is effectively in charge of the algorithm, "which allows them to manipulate content, and if they want to, to use it for influence operations."