Are you feeling lost in the labyrinth of iPhone models, colors, and specs? Fear not, my friend, because Apple has just released a new web service to help you navigate the overwhelming maze of Apple phones: Shop with a Specialist over Video. And no, it's not a virtual reality tour of an Apple store, although that would be pretty cool.
CLICK TO GET KURT'S FREE CYBERGUY NEWSLETTER WITH QUICK TIPS, TECH REVIEWS, SECURITY ALERTS AND EASY HOW-TO'S TO MAKE YOU SMARTER
How the "Shop with a Specialist over video" works
This service lets you connect with an iPhone expert over a one-way video call to seek buying advice, ask about carrier deals and ultimately make a purchase. The best part? You get all this help from the comfort of your home while the specialist can't see you in your pajamas – although we won't judge if you're wearing them.
It's as simple as FaceTiming a friend or loved one, yet instead, you're connecting with an Apple product specialist who can walk you through every concern and question regarding the differences between iPhone models. After all, Apple needs to justify its high prices somehow. What better way than with a concierge-like service to guide you through your purchase?
Apple's head of retail, Karen Rasmussen, said, "With Shop with a Specialist over Video, our team members are excited to connect with customers and provide exceptional service as they learn about which iPhone best suits them." Given that Apple basically releases new iPhone models every year, the selection has quickly become saturated with various options and tech jargon around the upgrades. Skip the headache, and chat with an expert in seconds.
HOW TO UNLOCK YOUR PHONE WITH FACIAL RECOGNITION EVEN WHEN YOU HAVE YOUR GLASSES ON
How to use "Shop with a Specialist over Video" feature
All you have to do is hop onto Apple's website, hover over "iPhone," and click "Shop iPhone."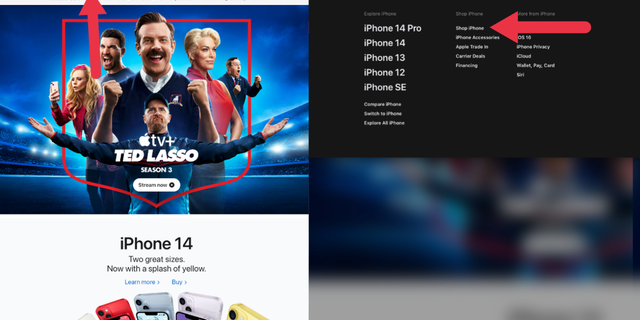 Then scroll down the page to the shopping guides row and click on the "Shop with a Specialist over video" card.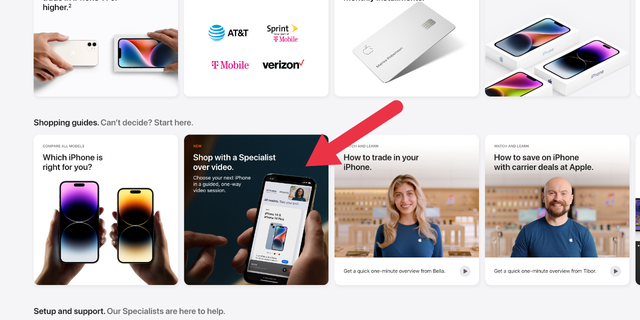 Before your session with an iPhone specialist begins, follow the prompts on your browser granting access to your microphone, allowing the specialist to hear you. After that, you'll see an "A Specialist will be with you shortly" screen. Just hang tight until you're at the front of the queue, or click "End call" to leave.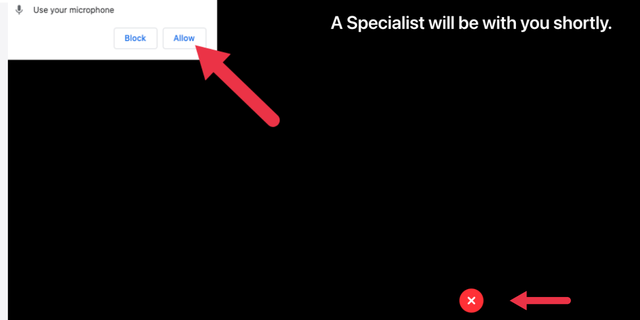 Voila! You're connected to a specialist who can guide you through the nuances of different iPhone models, carrier deals, connectivity, and payment options like financing. During the video call, you'll see the specialist and their shared screen as they walk you through the commerce platform.
APPLE'S CRUCIAL NEW IPHONE WARNING ABOUT POTENTIAL HEALTH RISK
Things to keep in mind
Remember that the service is only available in the U.S. during business hours (10 a.m. to 10 p.m. ET).
If you lose connection or accidentally click out of the session, don't fret. You can always start a new one and rejoin the queue. It's like waiting in line at a theme park, except you don't have to wear Mickey Mouse ears.
TOP 5 REASONS TO UPDATE TO IOS 16.4 ON YOUR IPHONE TODAY
The service is exclusive to their U.S. website, meaning it is only accessible through your desktop or laptop and not via your mobile device.
Final Thoughts
So, if you want to make your iPhone buying experience less stressful and more entertaining, give Shop with a Specialist over Video a go. With this service, you can get personalized help and make a confident purchase decision without leaving your home. As a reminder, however, if you do happen to use this service, you are not obligated to make a purchase.
If you have concerns or questions regarding your other Apple products, schedule a free session with Apple support to get you back to full speed. Here's how.
Have you tried the Shop with a Specialist over Video yet? We would love to hear what your experience was like. Let us now at CyberGuy.com/Contact.
CLICK HERE TO GET THE FOX NEWS APP
For more of my tips, subscribe to my free CyberGuy Report Newsletter by heading to CyberGuy.com/Newsletter. 
Copyright 2023 CyberGuy.com. All rights reserved.