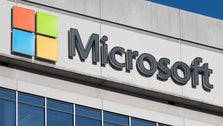 Microsoft plans to lay off thousands of employees to reduce costs as the global economy slows, the company said Wednesday.
The cuts will affect 10,000 people worldwide. In a blog post announcing the layoffs, Microsoft CEO Satya Nadella pointed to widespread fears of recession and a downturn in consumer demand, which have led to similar cutbacks by other tech giants.
"As we saw customers accelerate their digital spend during the [COVID-19] pandemic, we're now seeing them optimize their digital spend to do more with less," he wrote. "We're also seeing organizations in every industry and geography exercise caution as some parts of the world are in a recession and other parts are anticipating one."
Nadella said the cuts will affect "less than 5 percent of our total employee base" at Microsoft. As of June 30, the company had a full-time workforce of around 221,000.
Some employees are receiving layoff notifications Wednesday. But cuts are expected to continue through the end of March, likely hitting divisions such as engineering and human resources, according to media reports.
"While we are eliminating roles in some areas, we will continue to hire in key strategic areas," Nadella said.
The CEO added that his company is "taking a $1.2 billion charge in Q2" — the second fiscal quarter, which ended in December — "related to severance costs, changes to our hardware portfolio, and the cost of lease consolidation as we create higher density across our workspaces."
Other tech companies seeing major cutbacks in recent months include Amazon, Facebook, Salesforce and Alphabet, Google's parent company.