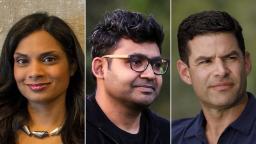 Washington
CNN
 — 

Former senior executives of Twitter have sued the company in an attempt to recover more than $1 million in legal expenses incurred by responding to shareholder lawsuits, federal investigations and a congressional hearing, according to a complaint filed Monday in Delaware Chancery Court.
The lawsuit by former Twitter CEO Parag Agrawal, former chief legal officer Vijaya Gadde and former chief financial officer Ned Segal alleges that Twitter has failed to reimburse them for lawyers' fees in accordance with prior agreements with the company. Elon Musk fired the executives immediately after completing his acquisition of the company.
Twitter, which cut much of its public relations team last year, did not immediately respond to CNN's request for comment. The complaint was first reported by The New York Times.
According to exhibits filed with the complaint, Gadde alone spent more than $1 million preparing for her testimony in February before the House Oversight Committee, when the panel held a hearing focused on allegations that Twitter censored conservative speech.
The complaint also describes legal fees linked to probes by the Securities and Exchange Commission and the Justice Department, though without disclosing many specifics of the investigations. The references to federal investigations underscore the continuing legal risk for Twitter under Musk, who is simultaneously struggling to shore up company finances while pushing a skeleton crew to make significant changes to the product.
The SEC has previously probed Musk's investment in and deal to buy Twitter, including his apparent delay in disclosing his large ownership stake in the social media company. And last month, the Federal Trade Commission acknowledged a wide-ranging investigation into Twitter's privacy practices. The Justice Department has not previously confirmed any investigation into the company.
The lawsuit outlines some details about the DOJ and SEC probes. It claims that Agrawal and Segal first began receiving requests from US officials around July of last year. Agrawal continued to field requests through the fall and after he stepped down from Twitter, according to the complaint. And late last year, it said, the Justice Department contacted Agrawal and Segal's attorneys about multiple investigations into Twitter.
Letters to Twitter seeking reimbursement for the legal expenses were ignored for months, according to the complaint. In March, the company allegedly responded by acknowledging the requests for reimbursement, but took no action to pay. As of Monday, the executives still have not recovered the fees, the complaint said.