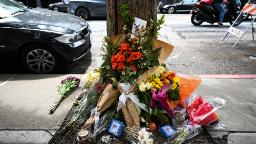 CNN
 — 

The family of murdered Cash App founder Bob Lee issued a statement Thursday thanking the San Francisco Police Department "for bringing his killer to Justice" after the arrest of Nima Momeni.
"Our next steps will be to work with the District Attorney's office to ensure that this person is not allowed to hurt anyone else or walk free," the statement said.
Law enforcement described Momeni as a 38-year-old man from Emeryville, California and said Momeni and Lee knew one another, but didn't provide further details about their connection.
California Secretary of State Records indicate that Momeni has been the owner of an IT business, which, according to its website, provides services like technical support.
Momeni is scheduled to have his arraignment hearing on Friday afternoon.
Lee was stabbed to death in the Rincon Hill neighborhood of San Francisco early in the morning of April 4th. The moments following the stabbing attack were captured on surveillance video and in a 911 call to authorities, according to a local Bay Area news portal.
The surveillance footage, reviewed by the online news site The San Francisco Standard, shows Lee walking alone on Main Street, "gripping his side with one hand and his cellphone in the other, leaving a trail of blood behind him."
In the statement Thursday, the family described Lee's upbringing, his career, and the impact of the technology he helped create.
"Every day around the world, people interact with technology that Bob helped create. Bob will live on through these interactions and his dreams of improving all of our lives," the statement reads.