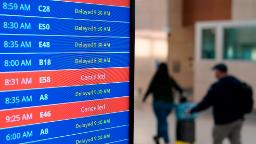 Washington
CNN
 — 

The Federal Aviation Administration software that failed Wednesday causing thousands of flight delays and cancellations is 30 years old and at least six years away from being updated, a government source familiar with the situation tells CNN.
The Notices to Air Missions (NOTAM) database failure triggered the FAA to implement the first nationwide stop of air traffic in more than 20 years.
Transportation Secretary Pete Buttigieg has held multiple meetings with top FAA officials since Wednesday's meltdown and "has made it very clear" he wants the NOTAM database updated much faster than the FAA's planned timeline, the source tells CNN.
"The core operating system for the database has been around since the 1990s," the source said. "Regardless of the improvements made to the system in recent years, it still has the heart of an 89-year-old man."
In its budget estimate for 2023, the FAA requested $29.4 million for its Aeronautical Information Management Program, which includes the NOTAM system. Describing the system, the administration said it needs to "eliminate the failing vintage hardware that currently supports that function in the national airspace system."
Meanwhile, the FAA is stuck addressing new technology, including drones and electric helicopters, with its outdated technology, the source said.
"We need to bring equipment online a lot faster than we are," the source said, noting a big investment is required because it's far more complicated than an over-the-air iOS update. "It's gone on for years."
CNN has reached out to the FAA for comment on updates to the NOTAM system to date and its modernization timeline.
Late Wednesday, the FAA continued to downplay the possibility of a cyberattack as the root cause of the system failure. Instead, It pointed to a damaged database file. The FAA says it is "working diligently to further pinpoint the causes" to avoid a repeat.
An investigation at the direction of Secretary Buttigieg has still not determined the origin of the corrupted file, the government source told CNN.
The failure is expected to be a main sticking point as the FAA enters its federal funding reauthorization process — especially with the GOP now in control of the House. The FAA is already taking criticism from lawmakers on both sides of the aisle.
Airlines, fielding their own share of government criticism for schedule collapses, have also sounded the alarm about a lack of funding, limited staffing, and outdated FAA technology.
During a September US Chamber of Commerce event, United Airlines CEO Scott Kirby told CNN's Pete Muntean that the aviation industry should rally around the FAA following a summer marred by flight cancelations and delays.
"The FAA needs more funding," Kirby said in an on-stage interview before aviation leaders. "They need more investment for technology."