Artificial intelligence tools like ChatGPT are taking over the landscape of our everyday lives, and now Microsoft has just announced its own tool called 365 Copilot.
It's meant to help people with work-related tasks, so anyone using it can be more productive. The announcement comes just a couple of months after the company revealed it would invest some $10 billion in ChatGPT creator OpenAI.
CLICK TO GET KURT'S CYBERGUY NEWSLETTER WITH QUICK TIPS, TECH REVIEWS, SECURITY ALERTS AND EASY HOW-TO'S TO MAKE YOU SMARTER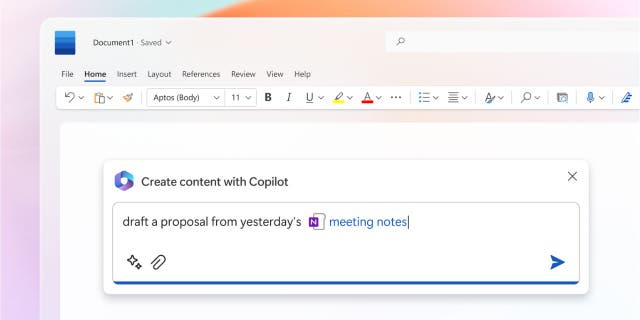 How does Microsoft 365 Copilot work?
The AI tool combines large language models (LLMs) with your data in the Microsoft Graph and the Microsoft 365 apps and is integrated into Microsoft 365 in two different ways. The first way is by working alongside you in all the Microsoft 365 apps, including Word, Excel, PowerPoint, Outlook, Teams and more.
The second way is through a brand-new feature called Business Chat. This feature works across the LLMs, the Microsoft 365 apps and your data to take care of tasks for you. For example, you could give the tool a basic language prompt and it will give you an answer based on its access to your morning meetings, emails and chat threads.
CHATGPT NEW ANTI-CHEATING TECHNOLOGY INSTEAD CAN HELP STUDENTS FOOL TEACHERS
What skills in the workforce is Microsoft aiming to improve?
With Microsoft 365 Copilot, the company is aiming to help workers improve their creativity, productivity and skills. In terms of creativity, there are tons of tasks that the tool is capable of doing.
BEST BROWSER ALTERNATIVES FOR THE ONCE-POPULAR, NOW-RETIRED INTERNET EXPLORER
When you create a Word document, for example, rather than beginning with a blank slate, you could give your ideas to Copilot, and it would give you a first draft to edit and improve. It also can shorten and rewrite text or give feedback on your writing. It can help in this way as well with PowerPoint by sprucing up your presentations or creating better data visualizations in Excel.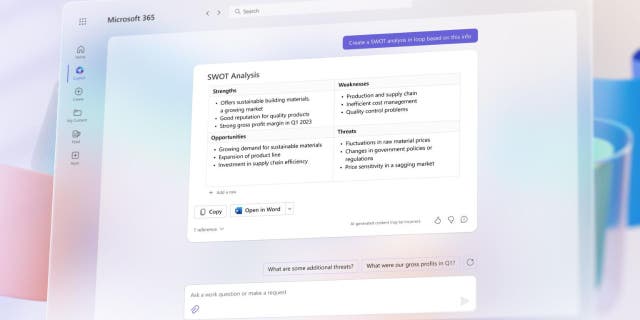 When it comes to productivity, Copilot is meant to help you work faster than you normally would without it. It could summarize lengthy emails sent to you in Outlook, give you key discussion points from your meetings in Teams and create chatbots in Power Platform.
MICROSOFT IMPOSES LIMITS ON BING CHATBOT AFTER MULTIPLE INCIDENTS OF INAPPROPRIATE BEHAVIOR
And as far as improving your skills goes, Copilot can quickly show you how to unlock the thousands of tools that Microsoft 365 has to offer that you would never have had time to learn on your own before.
How is this different from ChatGPT?
When it released Microsoft 365 Copilot, Microsoft stated, "Copilot is more than OpenAI's ChatGPT embedded into Microsoft 365. It's a sophisticated processing and orchestration engine working behind the scenes to combine the power of LLMs, including GPT-4, with the Microsoft 365 apps and your business data in the Microsoft Graph — now accessible to everyone through natural language."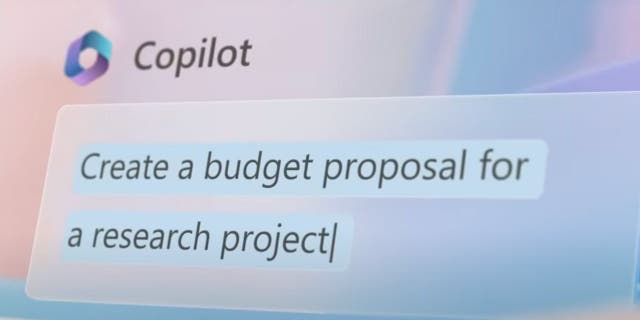 It seems like this tool is meant to come in handy for workers in all kinds of fields. However, we've already seen ChatGPT experience some problems over these last few months, whether it be malfunctions with how to tool communicates with users or hackers trying to trick people with fake versions of the tool. It's tough to say if this tool will be a good asset or not, so we'll have to wait for the coming days and weeks to see how people respond.
Copilot is currently being tested with 20 customers right now, and Microsoft will be expanding the preview to others in the coming months.
Would you be interested in using Microsoft 365 Copilot? Let us know your thoughts.
CLICK HERE TO GET THE FOX NEWS APP
For more of my tips, subscribe to my free CyberGuy Report Newsletter by clicking the "Free newsletter" link at the top of my website.
Copyright 2023 CyberGuy.com. All rights reserved.