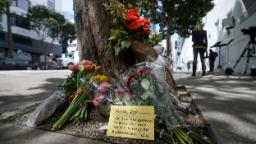 CNN
 — 

San Francisco Police have made an arrest in the murder of Cash App founder Bob Lee, according to a tweet from San Francisco Board of Supervisors member Matt Dorsey.
Dorsey expressed his gratitude to the police department's homicide detail for "their tireless work to bring Bob Lee's killer to justice and for their arrest of a suspect this morning."
The local news portal Mission Local was first to report news of an arrest writing that authorities has apprehended a suspect in the Bay Area city of Emeryville.
CNN has reached out to San Francisco Police and the Mayor's office for comment.
Lee was stabbed to death in Rincon Hill neighborhood of San Francisco early in the morning of April 4th. Many in the tech world and beyond responded to news of Lee's death with an outpouring of shock and grief.
Lee was the former chief technology officer of Square who helped launch Cash App. He later joined MobileCoin, a cryptocurrency and digital payments startup, in 2021 as its chief product officer.
Josh Goldbard, the CEO MobileCoin, previously told CNN: "Bob was a dynamo, a force of nature. Bob was the genuine article. He was made for the world that is being born right now, he was a child of dreams, and whatever he imagined, no matter how crazy, he made real."